---
---
Introduction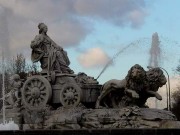 Spain's capital is an exclusive member of European football's elite. Its status is guaranteed by the pedigree of its flagship club Real Madrid CF, nine-times winners of the European Champion Clubs' Cup, who play at the five-star Santiago Bernabeu stadium, host of many international finals.
Madrid is also home to the world's top footballers. Style icon David Beckham arrived in the summer joining Zinedine Zidane, Ronaldo, Luis Figo and Raúl González in the Real Madrid panoply of stars.
The capital of Spain, located in the heart of the peninsula and right in the center of the Castillian plain 646 meters above sea level, has a population of over three million. A cosmopolitan city, a business center, headquarteers for the Public Administration, Government, Spanish Parliament and the home of the Spanish Royal Family, Madrid also plays a major role in both the banking and industrial sectors.
The city also boasts Europe's liveliest nightlife, with a rich cultural scene to match, and a superb range of hotels and restaurants. The urban transport network is cheap, efficient and runs past midnight, and taxis are plentiful and inexpensive.
Useful tips
During the mid-winter months daytime temperatures in Madrid may drop to 7º Centigrade (45º F) During the months of July and August temperatures are hot. Madrid enjoys a large number of sunny days.
---
---
Getting There
By air
Barajas airport - 6km east of the city centre.
Metro line 8 from Barajas connects to lines 4, 6, 10 into the centre.
Bus line Barajas to Plaza de Colon (city centre).
Taxi into town should cost about €25.
By train
Atocha and Chamartin are the international train stations.
Good to know: Many trains stop at both stations so you can often chose whichever is most convenient. Keep in mind that Atocha is closer to the city centre, and Chamartin is closer to the Bernabeu stadium. Both stations are on the metro network.
By road
Main roads into Madrid bring you into the city centre. Long-term parking rates are available at neighbourhood garages. The inner ring road M30 and the Paseo de la Castellana are notorious bottlenecks, and the centre can be close to gridlock during rush hour. Your own transport is really only of use for excursions, so find a hotel with a car park.
---
---
Places To See
Prado Museum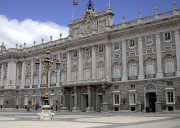 Located in an 18th building designed by Juan de Villanueva, the Prado is considered one of the most important art galleries in the world. It houses masterpieces by Velázquez, Goya, El Graco, Zurbarán, Ribera, Ribalta, Titian, Raphael, Botticelli, Fra Angélico, Rubens, Bosch, Van der Weyden, Pussin, Lorrain, Watteau, Rembrandt, Dürer and Mengs, among others.
Street: Paseo del Prado.
Metro: Banco de España & Atocha.
Open: 9 a.m. to 7 p.m. Sunday: 9 a.m. to 2 p.m.
Closed: Monday.
Reina Sofia
A cultural center containing a permanent collection of Spanish contemporary art and offering a wide variety of temporary exhibitions coverig diverse modern artistic disciplines such as painting, sculture, video, photography, films, et.
Street: Santa Isabel, 52.
Metro: Atocha.
Open: 10 a.m. to 9 p.m.; Sunday 10 a.m. to 2:30 p.m.
Closed : Tuesday
Thyssen-Bornemisza Gallery
This museum houses a splendid collection ranging from primitive Flemish to contemporary works. More than 800 paintings and sculptures, carvings, tapestries and other items are displayed. Villahermosa Palace.
Street: Paseo del Prado, 8.
Metro : Banco de España.
Open : 10 a.m.to 7 p.m.
Closed: Monday.
Royal Palace
Although no longer a home to the king, the palace's magnificent architecture, gardens, frescos and paintings by El Greco, Velazquez, Goya, Rubens, Caravaggio and others, make it very much worth a visit.
---
---
Nightlife
The city that never sleeps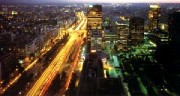 Nightowls will find Madrid a paradise every night of the week. Visitors must keep in mind the late dining hours; restaurants do not even open until eight or nine o'clock. Many night establishments are open until the early morning hours. More than any other European city - with the possible exception of Berlin - Madrid lives for the night.
Places to go
Huertas street: The main area for the trendiest of beer bars and pubs of many different styles in city center,near Puerta del Sol.
Plaza Santa Ana: More touristy but not less lively, where places such as the Cerveceria Alemana have a long and distinguished tradition of catering for foreigners; it was one of Hemingway's many European haunts.
Kapital: 125 Atocha Street. Open Thu-Fri-Sat-Sun, 00:00h to 06:00h. The best dance club in Madrid,seven floors of pure diversion,go-go´s, performances and dj´s that they will do of each night an unforgettable night. It situated in the heart of the city, next to the station of Atocha,Kapital becomes one of the better options for the Madrid nights.
---
---