---
---
No European Club Can Match The Success Of Real Madrid C.F.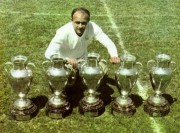 Record winners of the European Champion Clubs' Cup and UEFA Champions League, voted 'Team of the Century' by a FIFA poll, and lords of the manor from their regal home of the Santiago Bernabéu set on one of the Spanish capital's grandest avenues, Real have class stamped right through them. Striding onto the pitch in their pristine all-white kit, Real ('Royal') strikes fear into every opposing side, Spanish or European.
---
---
Club History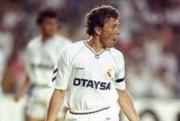 The winners of four consecutive Spanish Cups between 1905 and 1908 were given their royal title in 1920 and turned professional in 1929, when the Spanish League was introduced. By the time the Chamartin stadium was built, Don Santiago Bernabéu was on the board. After two title wins in 1931/32 and 1932/33 - with legendary goalkeeper Ricardo Zamora, Bernabéu rebuilt the club following the hardships of the Civil War.
With Chamartin in ruins, he constructed a vast football palace on what was then Avenida del Generalissimo Franco, the avenue now called the Castellana. The club then pulled the masterstroke of hiring Alfredo Di Stéfano under the nose of rivals FC Barcelona, and with winger Gento and midfielder Miguel Muñoz, Madrid set about making history.
The club dominated the European Champion Clubs' Cup for its first five years, Di Stefano, joined by Hungarian Ferénc Puskas to make a wonder team responsible for one of the finest club displays ever seen; the 7-3 win against Eintracht Frankfurt in 1960 at Hampden Park, Glasgow. Winger Gento went on to play in the European Cup victory of 1966, with stars such as Amaro Amancio and Pirri.
The next classic Madrid side came in the 1980s with the Quinta del Buitre, The Vulture Squad, led by Emilio Butragueño who won five straight league titles. Financial squabbles and the dominance of Cruyff's Barcelona saw Madrid suffer in the early 1990s, but came back with a young home-grown striker Raúl González, to win the UEFA Champions League of 1997/98, when A solitary goal by Yugoslavian import Predrag Mijatovic saw Madrid beat Juventus FC 1-0. A more convincing win of 3-0 against Valencia CF came in 1999/00.
Helped by the financial coup of selling a training ground for real estate, Madrid bought up some of the world's greatest players; Ronaldo, Luis Figo and Zinedine Zidane, the scorer of an legendary winning goal to beat Bayer 04 Leverkusen at Hampden Park in the UEFA Champions League final of 2001/02 - Madrid's record ninth trophy. With Roberto Carlos, Iker Casillas and stalwart Fernando Hierro at the back, this trio of world stars cruised past opponents in the Champions League campaign of 2002/03. The arrival of the 2011 Golden boot Cristiano Ronaldo and the best coach in the world Jose Mourinho signalled a new era for the club.
---
---
Honours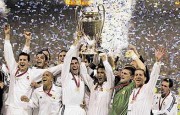 13 times European Champions Club winners: 1955/56, 1956/57, 1957/58, 1958/59, 1959/60, 1965/66, 1997/98, 1999/2000, 2001/2002, 2013/2014, 2015/2016, 2016/2017 and 2017/2018
1 The best club of the 20th Century FIFA Trophy
7 times FIFA Club World Cup 1960 1998 2002 2014 2016 2017 2018
2 times UEFA Cup winners: 1984/85 and 1985/86
4 time UEFA Super Cup winner: 2002 2014 2016 2017
3 times Intercontinental Cup winner: 1960, 1998 and 2002
33 times Spanish League winners
19 times Spanish Cup winners
---
---